About us
Our love for nature and the sea, combined with our obsession with seeking out new destinations, has led us to create the "On Waves Boat Rental". It is about a new company in the field of pleasure boats' rental. Having been established in 2018, in Vourvourou of Chalkidiki, "On Waves" has made an innovative entrance in the boats' rental market changing the standards.
Cruising the Vourvourou's bunch of isles, is a "must" , suggested by all tourist guides of the area and it is by far, one of the most exciting experiences one may live during his vacations in Chalkidiki.
There are many suggestions and options, however consistency and safety are not always for granted. "On Waves" feeling absolutely responsible towards its clients, stands out and distinguishes for the provided services. Our boats, brand new and fully equipped with the newest means, provide the maximum of safety, while they catch your glance through their beauty and comfort. Our staff being expert, friendly and always in the best mood, is ready to offer you all services required in order to ensure that your daily cruise will be unforgettable, even if you don't have a license.
Visiting us is just enough for you to see and understand the difference. Besides, the "On Waves" experience starts by the time one comes to our place!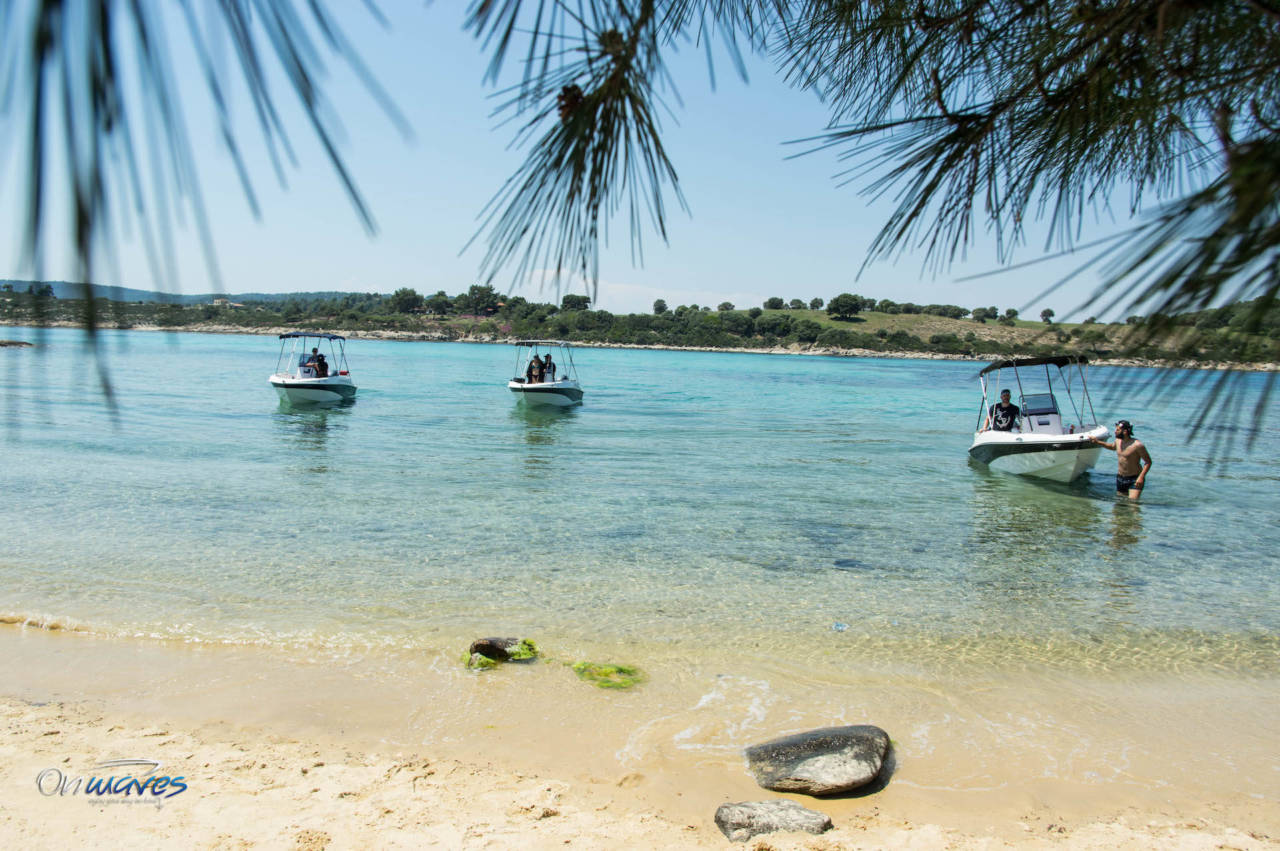 Our Philosophy
Our "On Waves Boat Rental" philosophy is based on the client's mentality and has as a guide the maximization of pleasure. As  everybody leads a stressful and requiring life, time for recreation and vacation lessens.  However, time and money we sometime spare in  the reign of enjoyment have been devaluated.
Therefore, the "On Waves" , with absolute respect to everybody's  need for pleasant vacations,  restfulness and relaxation is targeting to offer the utmost relish to everybody who will trust us.
The people of "On Waves",  having you as a standpoint are in the position of satisfying all your needs and raising the best preoccupations in order you to enjoy unforgettable days and us to be proud about that.
Well, equip yourselves with the best of your temper and visit us with your company in the wonderful  Vourvourou for an exciting summer full of surprise!!